Sick of cooking? Too busy? Or just craving a favorite delicacy? Consider ordering Take-out food from one of these terrific Mar Vista Restaurants.
Wondering which Mar Vista Restaurants are open and offering Take out or food to go right now? We've got the latest scoop. Whether you're looking for fast food or fine dining. Whether you want to pick it up yourself or have dinner delivered.
Even snacks and desserts are available close by! Note that some places don't have big websites, but you can order delivery via one of the many apps, like Doordash, Postmates, Grubhub, or Uber Eats.
Quick Links: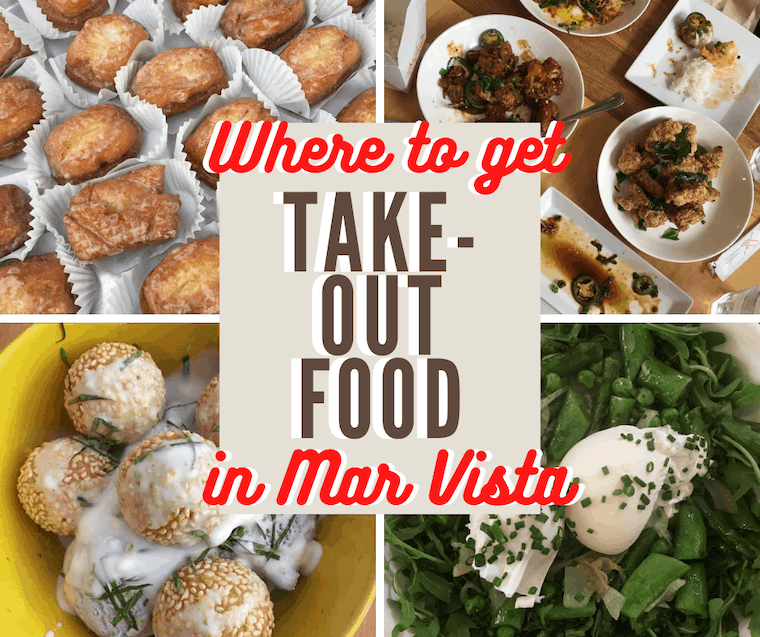 Restaurants with Take-Out Food in Mar Vista
Casa Sanchez
4500 S. Centinela Avenue, Los Angeles 90066
This restaurant in Mar Vista/Del Rey is well known for their delicious Mexican food, their banquet and catering options, and for hosting Mariachi performances. They've also got food to go, for individuals as well as Family-style meals.
El Sazon Oaxaqueño
12131 Washington Place, Los Angeles 90066
310-391-4721
Well known for their Oaxacan food, this restaurant also has a bakery. Try the mole sauce, on anything, or their tamales.
Delicious Thai food, from papaya salad, to Tom Yum Kai soup, to Thai curry and of course Pad Thai.
Little Fatty
3809 Grand View Blvd., Los Angeles 90066
Known for their Taiwanese Soul Food, Little Fatty has been a neighborhood staple for years. Try the scallion pancakes, the General Tso's cauliflower, the Taiwanese Sunday Gravy, 3 cups chicken – and any of the rest of their terrific menu. Now also serving beer, wince an cocktails to go from their adjoining bar, accomplice.
My Lai
12222 Venice Blvd., Los Angeles 90066
This relatively new addition to the Mar Vista dining scene offers modern Vietnamese cuisine, served fast-casual style. Build your own bowls, from ingredients like rice or vermicelli, chicken or tofu, cilantro and peanuts – and much more.
Terrific sushi to go. Choose from rolls, sashimi, tempura, it's all good.
Pitfire Pizza
12924 Washington Blvd., Culver City 90066
Pitfire has got you covered when it comes to pizza, pasta and salads. They've even got kids' pizza making kits and family-style meals to go.
Rasselbock
3817 Grand View Blvd., Los Angeles 90066
This German restaurant and pub serves hearty German food with a twist, with schnitzel, sausages, Bavarian pretzels and their famous apple strudel, not to mention their impressive German beer list.
Rustic Kitchen
3523 S. Centinela Avenue, Los Angeles 90066
Rustic Kitchen serves up comfort food and groceries if you need them. Try the burgers, poutine fries, and more. Open for Brunch, Lunch and Dinner.
Rutt's Café
11707 Washington Place, Culver City 90066
A little bit of the Islands here in LA, Rutt's serves up authentic and delicious Hawaiian food. known for huge portions and great prices, Rutt's is a favorite in Mar Vista. They also cater for larger groups.
Sakura Japanese Restaurant
4545 S. Centinela Avenue, Los Angeles 90066
310-822-7790
This restaurant doesn't seem to have a website, but they've been around for (is this possible?) 65+ years! They are a neighborhood stand-by, with regulars galore and a wait out the door – for table service. Get their terrific sushi to go and you won't be disappointed.
Saby's Café
12900 Venice Blvd., Los Angeles 90066
310-313-3867
This great neighborhood cafe is well known for delicious Mexican food, open for breakfast, lunch and dinner – as well as juices, baked goods, and coffee.
The MV Grab and Go
12226 Venice Blvd., Los Angeles 90066
Take-out is right in their name. The MV Grab and Go has a breakfast menu, as well as multiple options for lunch, like tacos, sandwiches, salads, plus specialties in their deli case.
Tut's Grill
12114 Washington Blvd., Los Angeles 90066
Part of the Rutt's family of restaurants, Tut's Grill serves Egyptian cuisine you will surely love. Choose from Kebabs, shwarma, felafel, gyros – and so much more.
The Carving Board
11676 Gateway Blvd., Los Angeles 90064
Making sandwiches into an art form, the Carving Board serves sandwiches, burgers, grilled cheese – and more.
Bakeries in Mar Vista
Angel Maid Bakery
4542 S. Centinela Avenue, Los Angeles 90066
Family-owned and in business since 1972, this bakery specializes in French and Japanese baked goods. Try the cream puffs, the strawberry shortcake, the chiffon cakes, the dobash cakes – heck, try them all!
Hotcakes Bakes
4119 S. Centinela Avenue, Los Angeles 90066
This bakery is well known for cakes and pastries, including their amazingly delicious Canneles. Order ahead for special occasions or just because.
Primo's Donuts
2918 Sawtelle Blvd., Los Angeles 90064
Family-owned and in business since 1956, Primo's has terrific donuts any time, but they're well known for seasonal specialities that are worth the wait in line to try. Buttermilk bars are the bomb!
Famous for their breads, especially pretzel bread, but just as well-known for their café menu, this neighborhood favorite is part of a larger food empire.
Yum Yum Donuts
12201 Venice Blvd., Los Angeles 90066
Known for their donuts, they also serve terrific coffee. After all, what's a donut without some?
"Fast Food" To Go in Mar Vista
Chipotle
11711 National Blvd., Los Angeles 90064
Chipotle may be the originator of the Fast Casual dining experience. They offer Mexican food in an assembly-line, add what you like and avoid what you don't. They offer individual meals and can do catering as well.
El Pollo Loco
12860 W. Washington Blvd., Culver City 90066
Delicious chicken and tons of sides, this chain serves food fast, but we think of it more as healthy Mexican-style food, perfect for when you're hungry and want to eat!
Grocery Stores with Deli Counters
Sometimes the meal you're craving comes from the grocery store deli counter – plus you can pick up some milk and eggs at the same time! These grocery stores serve everything from sushi to sandwiches, carne asada to tamales, soup to nuts – and everything in between.
Mitsuwa Marketplace
3760 S. Centinela Avenue, Los Angeles 90066
Northgate Market
4700 Inglewood Blvd., Culver City 90230
Ralphs
11361 National Blvd., Los Angeles 90064
Vons
4030 Centinela Avenue, Los Angeles 90066
Whole Foods
11666 National Blvd., Los Angeles 90066