The LAPD Pacific Division is bringing their Santa Sleigh back to the Westside this December, so get ready to see Santa! Here's the list of all the stops they'll be making – dates + locations. Plus scroll down for flyers of each day's stops.
Ho Ho Ho!
Monday, December 2nd – Venice
4:30pm Oakwood Recreation Center (767 California)
5:30pm Frey at Olive Street
6:30pm Shell Ave at Superba Ave
7:30pm 517 Indiana Ave.
Wednesday, December 4th – Mar Vista
3:00pm Grand View Elementary School
4:00pm Braddock Elementary School
5:00pm Mar Vista Gardens Boys & Girls Club
6:00pm Slauson Park/Mar Vista Family Center
7:00pm Mesmer/Beatrice Garden
7:40pm 3800 Block of Keeshen Drive
8:20pm North Park between Marcasel and East
Thursday, December 5th – Playa Vista + Del Rey
3:30pm Short Ave Elementary School
4:45pm Playa Vista (Concert Park)
6:30pm Oxford Triangle
7:15pm Kenyon Ave and Louise Ave
8:00pm 3600 Wade Street
Monday, December 9th Westchester + Playa Del Rey
4:00pm Playa del Rey Lagoon
4:45pm 8030 Fordham Ave
6:00pm 6907 West 85th Place
7:00pm 7511 Agnew Ave
7:45pm 8040 El Manor
Tuesday, December 10th – Westchester
4:00pm 5962 W. 75th Street
4:45pm 7825 Goddard Street
5:30pm 4821 W. 63rd Street
6:45pm 8937 Fleetwing Ave
7:45pm 8880 Earhart Ave
Wednesday, December 11th – Venice and Mar Vista
3:30pm Penmar Park
4:15pm 2103 Walnut Ave
5:00pm St. Andrew's Church (National Blvd)
5:45pm 3236 Purdue Ave
6:30pm 3270 Granville
7:15pm 11900 Victoria Ave
8:00pm 3412 Keeshen Drive
NOTE: Santa's Sleigh does not appear if it's raining. If you have any questions, please contact LAPD (310) 482-6397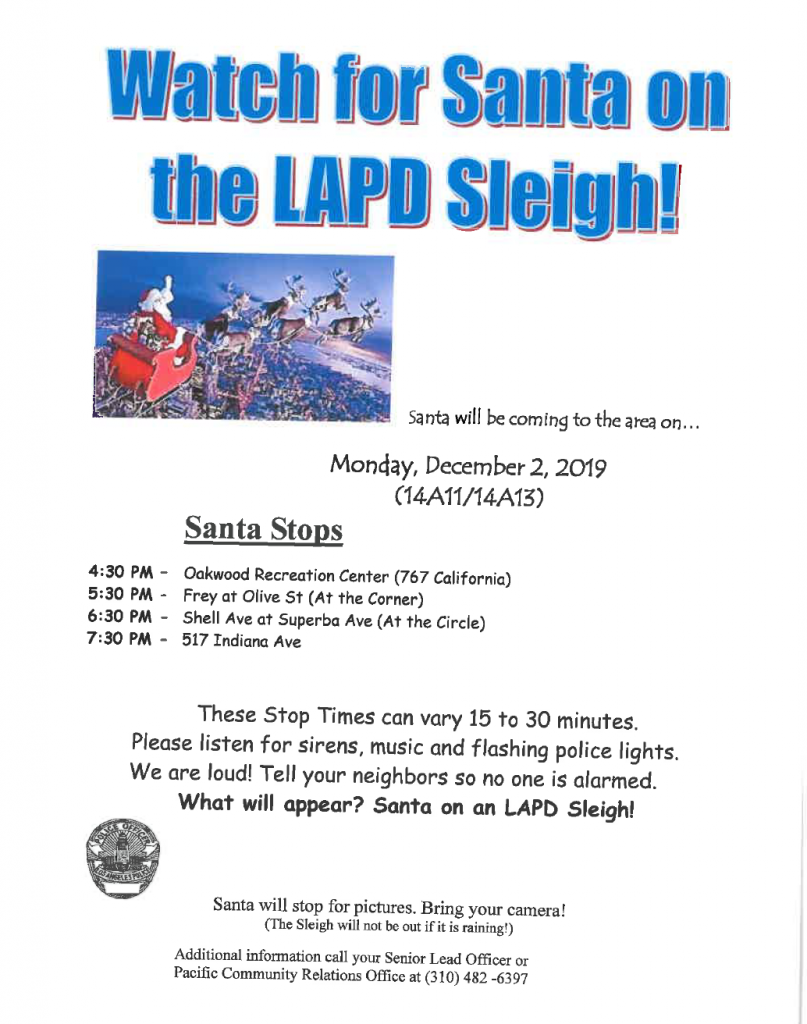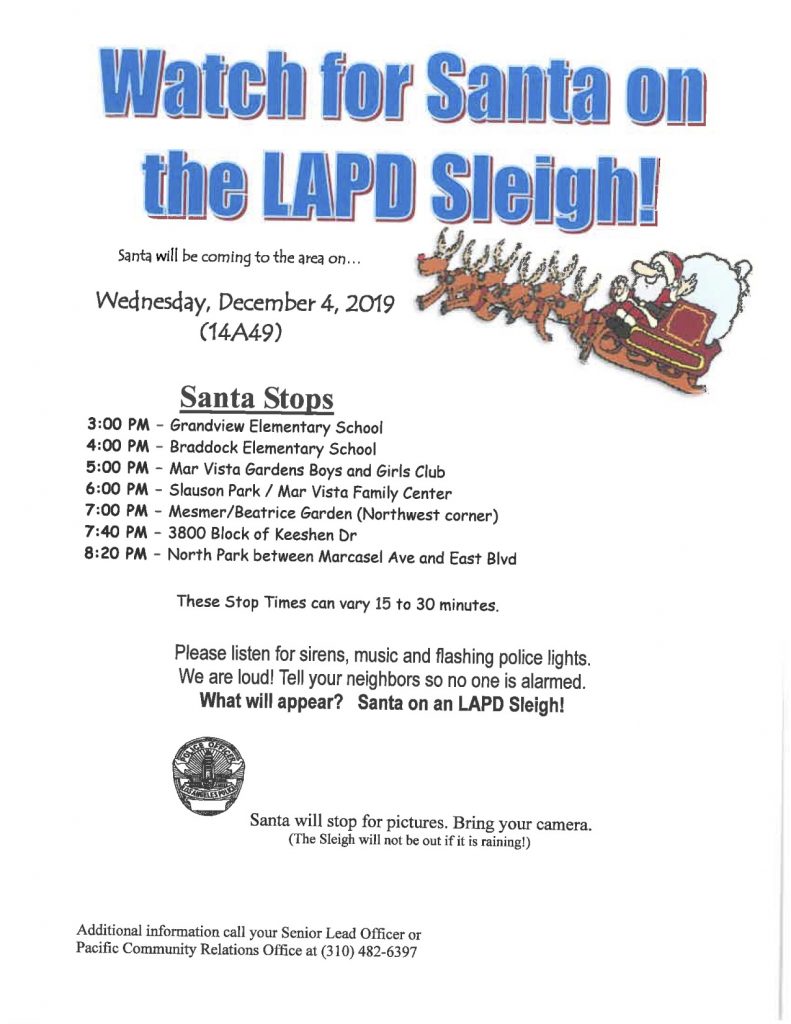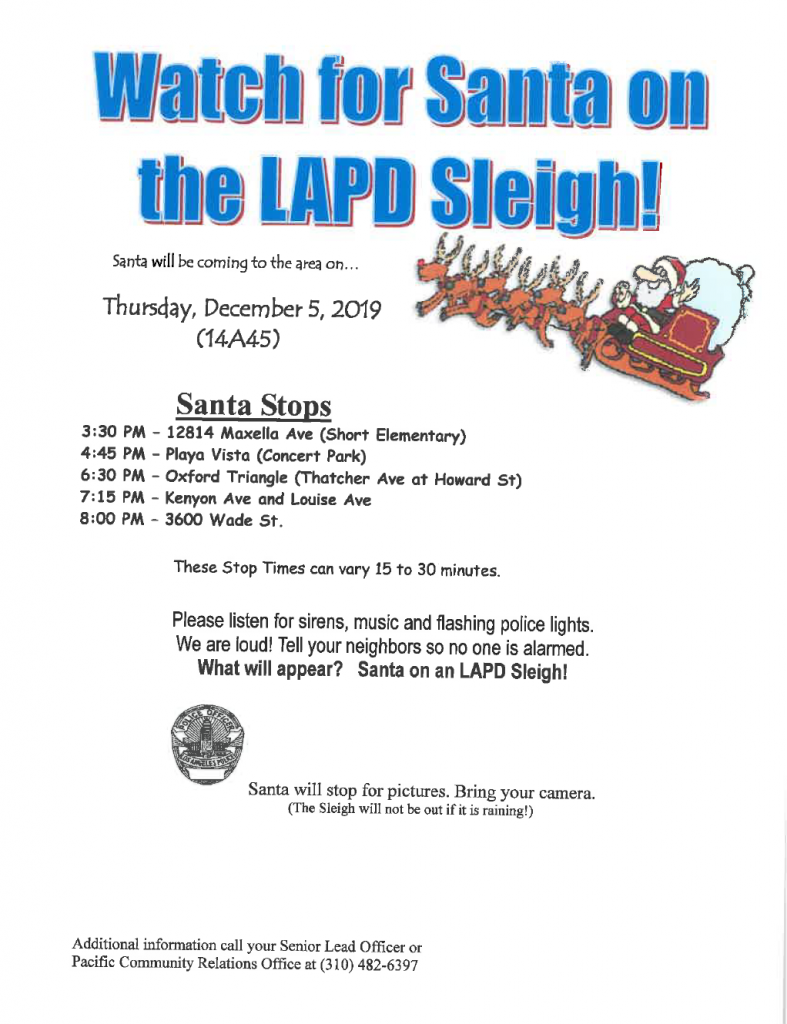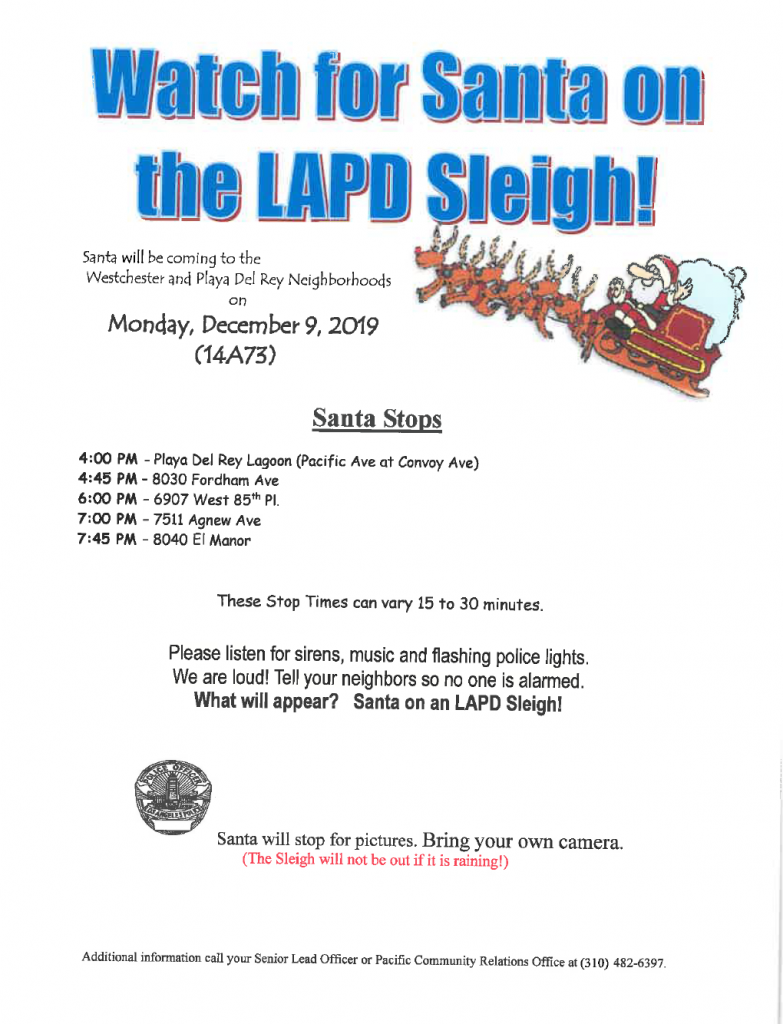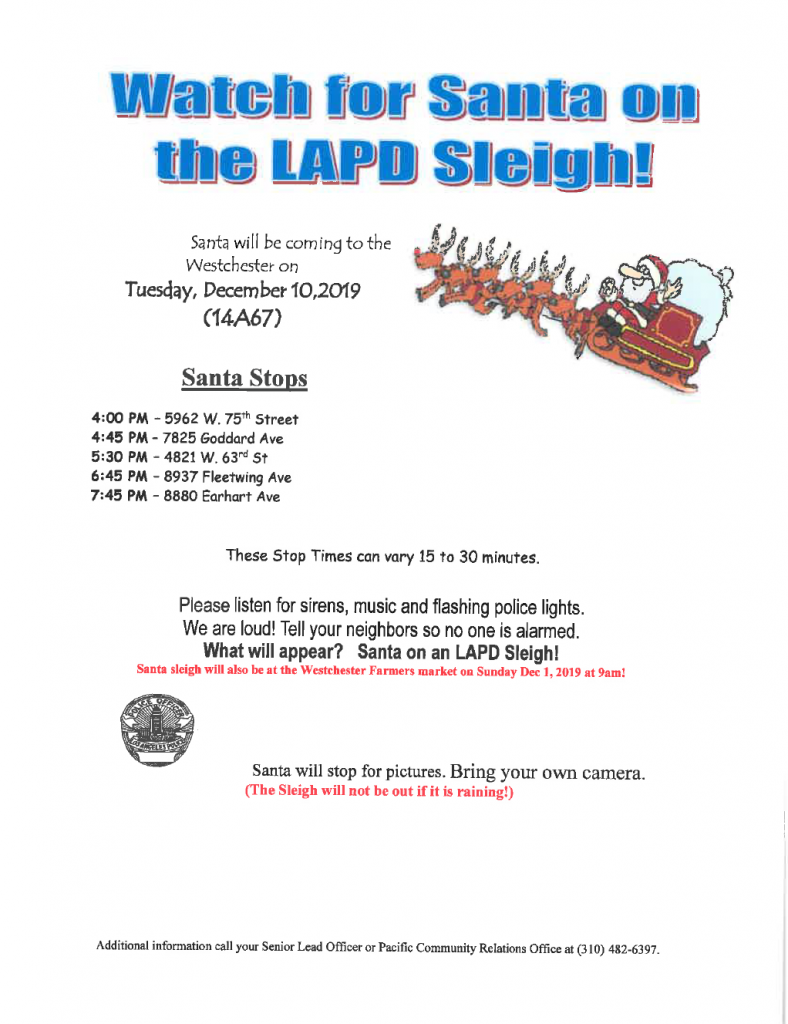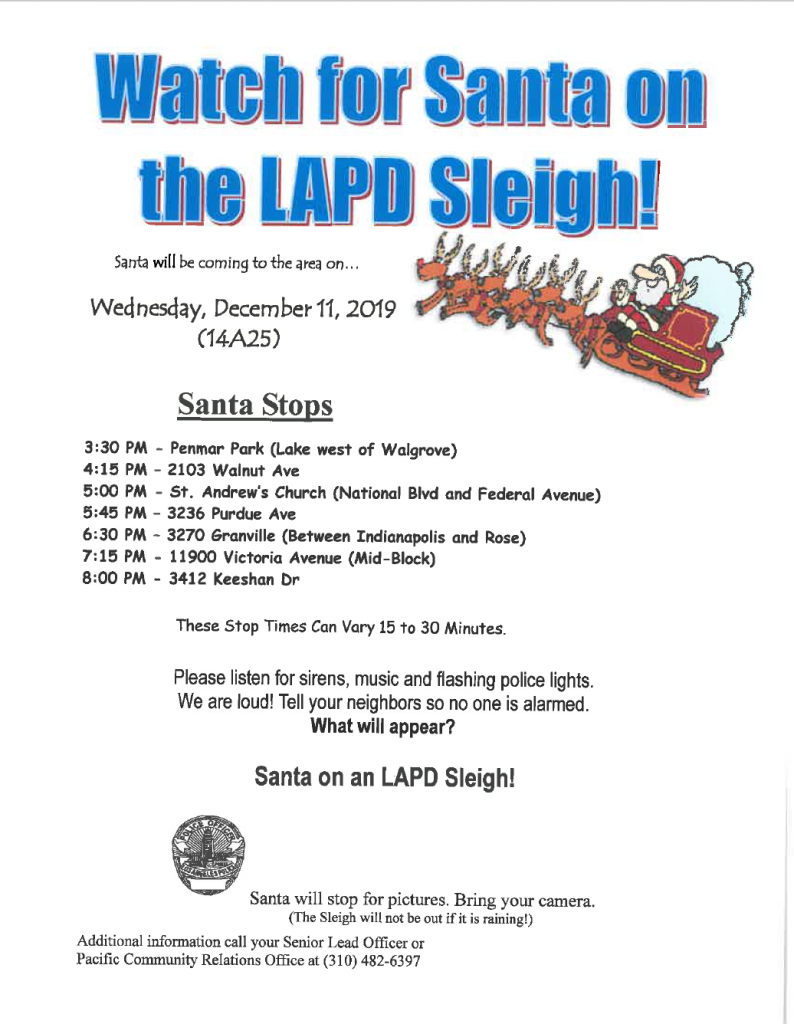 MarVistaMom has made every effort to confirm the information in this article; however, things can often change. Therefore, MarVistaMom makes no representations or warranties about the accuracy of the information published here. MarVistaMom strongly urges you to confirm any event details, like date, time, location, and admission, with the third party hosting the event. You assume the sole risk of relying on any of the information in our list. MarVistaMom is in no way responsible for any injuries or damages you sustain while attending any third party event posted on our website. Please read our Terms of Use which you have agreed to based on your continued use of this website. Some events have paid to be listed on MarVistaMom.