I love living in Mar Vista. You probably already knew that if you've been reading this blog for a while. I post about all the great things that go on in this neighborhood, and I've been doing it since 2008.
I have supported local businesses as past President and co-Founder of the Mar Vista Chamber of Commerce. I produced the Make it Mar Vista event for the past 3 years, which is held on Small Business Saturday, and is designed to support shopping local and shopping small. The Chamber has no paid staff – we're all volunteers, by the way – so I've been working to help build up local businesses for years just because I believe in it.
I put a high priority on supporting local businesses, and I practice what I preach. Here's a list of all the places in Mar Vista where I happily spend my money. I guess you could say these are endorsements, because I love all these places.
Hair (alphabetical listing)
All About Color is owned by Richard, who's a sweetheart and does a great job on my hair. He's been a serious pro forever, came up with a great look for my hair, plus he cracks me up.
12324 Venice Blvd., Mar Vista 90066
Peter's Salon is not only a terrific place to get a cut, color and style, but Peter is known for his amazing holiday decorations. And he's a doll. I love his blowouts.
12209 Venice Blvd., Mar Vista 90066
Floyd's 99 Barbershop has had a great deal running: $55 for shampoo + cut + blow out. Not bad! And the last lady who cut my hair there was very kind about my roots, so she's got an A in my book.
12200 Venice Blvd., Mar Vista 90066
Nails
Nails by Lisa is located within Peter's Salon and Lisa is terrific, with super loyal clients. I love getting a mani-pedi from her.
12209 Venice Blvd., Mar Vista 90066
Star Hair & Nails
This is a great little spot to get a mani-pedi, with a nice back parking lot and a super loyal clientele.
4040 S. Centinela Ave., Mar Vista 90066
Vanities
12615 Venice Blvd., Mar Vista 90066 (310)391-4849
Great place for a mani-pedi, hair cut and color. Plus great chit-chat!
Food & Drinks (alphabetical listing)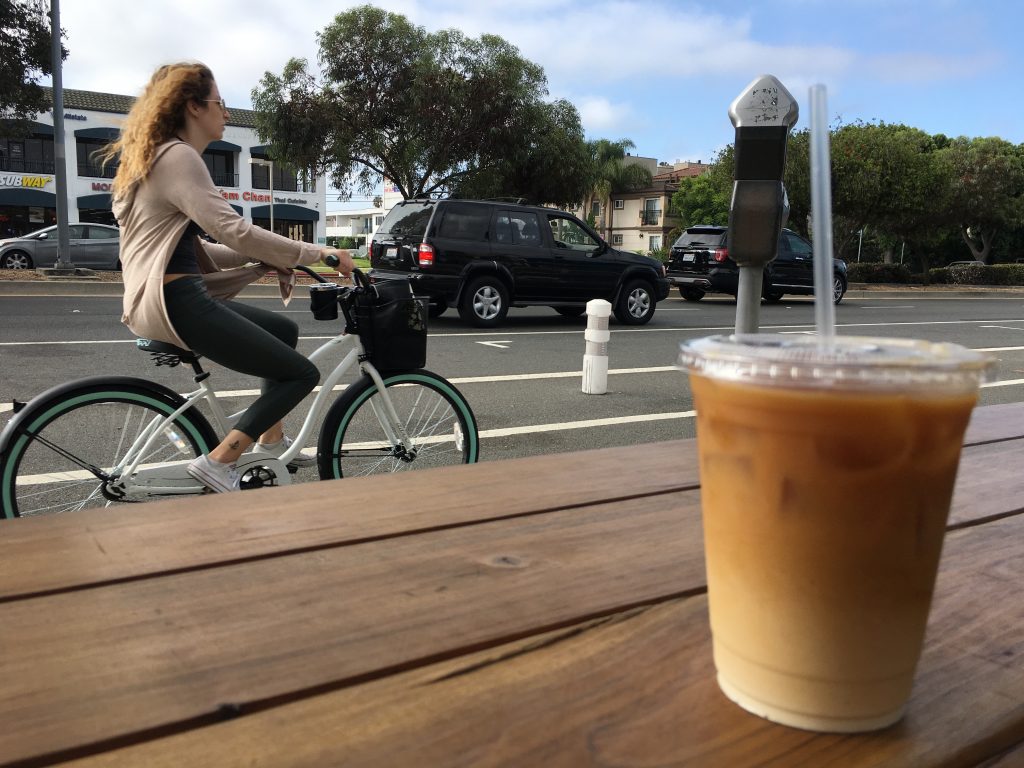 Alana's Coffee Roasters – this newest coffee spot in Mar Vista has a super cute interior seating area, great coffee, and even tables out front where you can sip your beverage and watch the world go by.
12511 Venice Blvd., Mar Vista 90066
Atmosphere Café – I just had breakfast there as a farewell to an old friend who's moving away. Delicious food – lunches, too. And now they have a wine list!
12034 Venice Blvd., Mar Vista 90066
Canela Cocina Latina – I love this place. Terrific Mexican food and great prices, plus it's owned by a wonderful family. Burritos are awesome.
12326 1/2 Venice Blvd., Mar Vista 90066
Coffee Connection
The Coffee Connection is a non-profit coffee house serving up hot beverages and pastries 6 days a week (they're closed on Sundays for Church) – and it's a great meeting place, with multiple rooms available for rent, and ample seating for drop-ins.
3838 S. Centinela Ave., Mar Vista 90066
El Sazón Oaxaqueño
This place has seriously some of the best food in town and at a terrific price. If you like Molé you must try it. Authentic Oaxacan food and panadería.
12131 Washington Place, Mar Vista 90066
Grand View Market is possibly the best deal in town – great prices on great food. Plus they have a beer & wine license and a market, too. Weekday lunch specials are not to be missed. My fave is Wednesday: Posole!
12210 Venice Blvd., Mar Vista 90066
Little Fatty – I love Chinese food, and this authentic Taiwanese spot has some of Mar Vista's best food. I raved about the cauliflower dish so much, my friends made me buy it for them and then shush, once we all agreed it was fantastic. Had a fun celebrity sighting there the last time I went – someone I had worked with years ago, back in my TV days.
3809 Grand View Blvd., Mar Vista 90066
Mar Vista, The – My family and I ate dinner there when it first opened last Winter and I'm heading back this week for a lovely patio experience now that it's Summer time!
12249 Venice Blvd., Mar Vista 90066
Mar Vista Grab & Go – I had a terrific breakfast there recently and I'm looking forward to a lunch soon. I love that the patio connects with the Venice Grind for coffee, too.
12226 Venice Blvd., Mar Vista 90066
Mitsuwa Market
Some of the best ramen in town can be found in this food court hidden inside a grocery store. Udon and tempura, too. Plus you can buy prepared sushi to-go from the market. Yum.
3760 Centinela Ave., Mar Vista 90066
Rustic Kitchen (RE-OPENING September 9th!)
This relative newcomer to the neighborhood has delicious food and a great wine list – plus they've got a market and terrific pastries. They were sidelined by a fire this Spring, but they're ready to re-open soon and I'm ready to go back!
3523 S. Centinela Ave., Mar Vista 90066
Rutt's Café – I grew up in Hawaii and there's no getting around it: I consider rice with every meal normal. Head there for plate lunch, the famous Royale – and we've had them cater a few of our parties as well. Two words: Spam Musubi.
11707 Washington Place, Mar Vista 90066

Venice Grind – this is the stand-by coffee joint in town and where I love to have people meet me: everyone either knows where it is or can easily find it because of the cool sign.
12224 Venice Blvd., Mar Vista 90066
Yum Yum Donuts – my kids have loved their donuts forEVER, and I can't help myself but indulge their cravings every now and then.
12201 Venice Blvd., Mar Vista 90066
Shopping
Brenda's Flowers – I've always shopped here for a hostess gift or bouquet to celebrate with a friend. They even do graduation leis, if you're in the market.
3827 Grand View Blvd., Mar Vista 90066
Council Thrift Store – This place has some of the best clothes anywhere, new or used. I get a lot of my wardrobe here, and quite often they still have the tags on. My favorite thing is the accessories, though: I love scoring a new handbag for $7 or all the jewelry I've found there, sometimes on Buy Two Get One day.
12120 Venice Blvd., Mar Vista 90066
Dick's True Value Hardware – I always need something that only Dick's carries. Sometimes it's a part my plumber tells me to pick up and have ready, or sometimes it's spare key copies, but I love going in there and I love that I can always count on them.
12216 Venice Blvd., Mar Vista 90066
The Hängar
Can I share a secret? I want to live inside this store. Everything is beautiful and there's a comfortable vibe throughout. The woman who runs this place has a fabulous eye and chooses wonderful pieces, from furniture to art and décor. Great spot for when you don't want an ordinary gift.
3472 S. Centinela Ave., Mar Vista 90066
Mar Vista Art Department
I love the super trendy fashions, jewelry, and gifts I get at this local store. Plus they hold fabulous events and workshops here, and they've been helping create some of the cool murals around the neighborhood, too.
12513 Venice Blvd., Mar Vista 90066
Soaptopia – How many bars of soap does a woman need? Well, I've got more than that. I love everything they make and sell! I've been shopping at Soaptopia since they first opened and it's my go-to spot for when I need that perfect gift. Especially good for Teacher Appreciation Week.
12228 Venice Blvd., Mar Vista 90066
Timewarp Music – OK this isn't me, but my husband shops here for his guitar babies and has had his amplifiers repaired as well.
12257 Venice Blvd., Mar Vista 90066
Vintage on Venice – I have the received the most delightful gifts from Vintage on Venice from my sweet family. I love going in the shop – so many wonderful things to look at an choose from!
12218 Venice Blvd., Mar Vista 90066
Services
ABY Rentals
I don't own enough tables and chairs for a party, much less a bouncy house or a cotton candy machine. But ABY does, and they've rented them to me many times over the years. They're terrific.
12215 Venice Blvd., Mar Vista 90066
Celeste's Alterations – Celeste is an artist and can repair just about anything. She's taken in some dresses for me – and let out others (it happens to the best of us). We get all my family's jeans hemmed there, too.
12028 Venice Blvd., Mar Vista 90066
Mar Vista Service – This tiny service station right on Venice Blvd is just terrific. I've taken my 12-year-old car there for many an oil change and I love that I can walk to pick it up.
12100 Venice Blvd., Mar Vista 90066
Mar Vista Cleaners – Matthew is the unelected Mayor of Mar Vista, and is a charming guy to get to know. They will take great care of your dry cleaning and always have a smile for you when you pass by.
3831 Grand View Blvd, Los Angeles, CA 90066
This post was written by Sarah Auerswald. To be 100% clear about this: none of these businesses has paid me to write this or say these things. I give THEM the money.