Linda Jones is mad as hell, and she's taking it to the streets.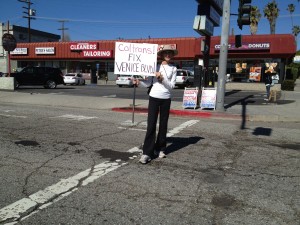 If you'll pardon the mixed metaphorical references for a moment, please read on…
Jones has been a Mar Vista resident for many years and she has seen the state of Venice Blvd. deteriorate steadily. Unhappy with the number of potholes and gaping cracks, she reached out to her City Council representative to see what could be done – and that's when she found out that Venice Blvd. is actually considered a State Highway, and is therefore under the jurisdiction of the California Department of Transportation, or CalTrans.
Repeated emails and phone calls to CalTrans have yielded very few responses and absolutely no resulting improvement in the streestcape.
She's tried contacting every government official and agency that has anything to do with Venice Blvd., and still she's received almost no responses and clearly, if you've been out to the street lately, absolutely no action.
And now she's decided to make her protest big and public.
On Sunday, April 28th at 11am, Linda Jones will be protesting the state of Venice Blvd. on the corner of Venice & Grand View – and she wants you to join her.
If you want to see the State Highway that runs through our neighborhood repaired – so that it's safe and smooth for strollers, wheelchairs, bicycles, car tires, and yes, walkers – then she's asking you to join her. You can contact her for more information – LlindaJones@promotionalstuff.com or (310) 397-8886.
What do you think of Venice Blvd.? Let us know in the comments section.
Here's a letter from Linda:
Dear Mar Vista Residents and Local Stakeholders:

 

My name is Linda Jones and I have been a resident and business owner in Mar Vista for 31 years.

My husband and I have been Neighborhood Watch Block Captains all along and we find it rewarding to help keep the neighborhood safer for all.

 

We have noticed that in the last 8-10 years the street asphalt on Venice Blvd. has been deteriorating.  It is undrivable, unwalkingable and unbikable in many, many areas between Overland Bl. and Lincoln Bl.

Venice Blvd. is a State Highway….so Caltrans is in charge of maintaining it, not the City of LA.

 

I have submitted numerous repair requests to Caltrans through their official website reporting form for the last three years and have noticed little to no response.  At best they fill a few potholes, but much more comprehensive resurfacing is needed.

 

How can we bike and walk our area when it is dangerous and difficult? 

I feel sorry for anyone that tries to push a baby stroller or use a wheel chair to cross Venice Blvd.

 

I am mad as hell and I am not going to take it anymore.

 

Please join us in a protest on April 28th, Sunday at 11:00 am at the corner of Venice Bl and Grandview Bl in Mar Vista 90066.

Show the politicians and State agencies that you are "Mad as Hell" too!

 

Thank you,

Linda Jones

 

Wasatch Ave. Neighborhood Watch

Block Captain