Celebrate National Night Out with the LAPD Pacific Division on Tuesday, August 3rd at Penmar Park. This annual event is designed to help foster building a better community, and for creating strong bonds between neighborhoods and police.
The LAPD Pacific Division has a long tradition of hosting these events, and each one has always been an opportunity for fun, eating good food, and getting to know each other better. Past events have been held in Playa Vista, Venice, Mar Vista, and this year it'll take place at Penmar Park.
Join the fun starting at 6pm and lasting until 9pm. The event is FREE and open to all. Get more information on the LAPD Pacific Division Facebook Event Page.
There will be an inflatable obstacle course, Face painting, a Balloon artist, and more!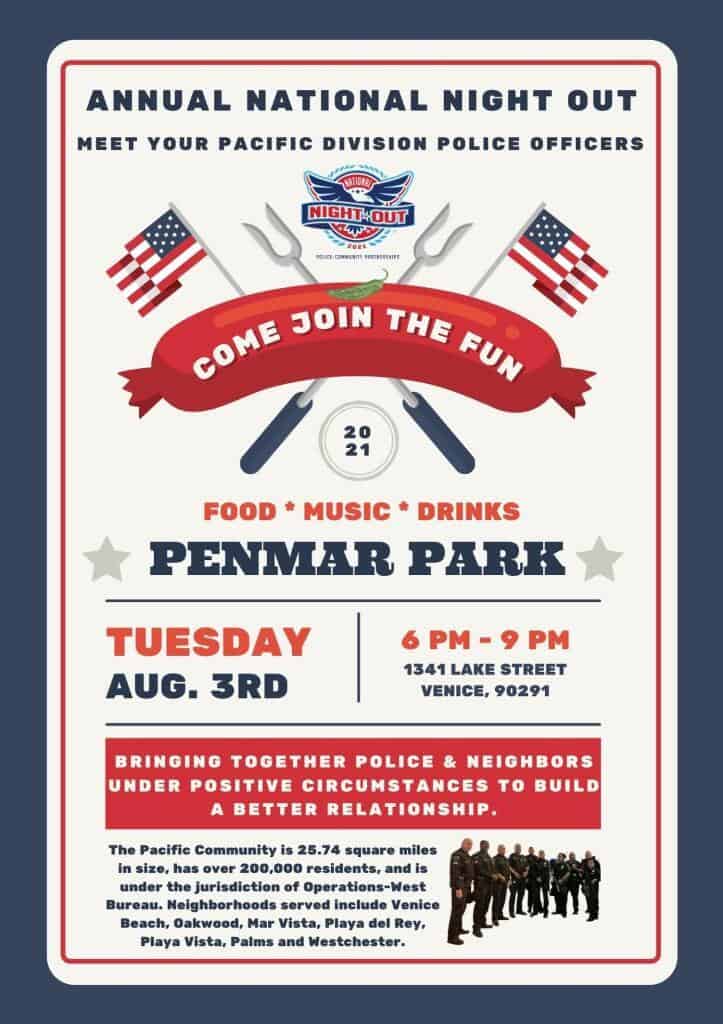 National Night Out
Founded in Pennsylvania in 1984 as a way to bring police and community members together under positive circumstances, National Night Out events now take place in communities all across the country, always on the first Tuesday in August.
Typically, volunteers help organize the food donations and gear to set up one of these events, and that's true this year as well.
National Night Out Pacific Division 2021
This year's event takes place at Penmar Park, 1341 Lake Street, Venice 90291, from 6-9pm on Tuesday, August 3rd.
Sarah Auerswald is the founder of Mar Vista Mom.