Mar Vista's So Hot, We're On The Huffington Post!
We have another local booster: Stacie Krajchir, of the Bungalow PR — and a Mar Vista resident — loves our neighborhood so much she saw fit to write about us on the HuffPo (as it's called by those of us who love it).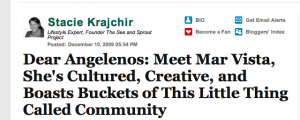 It's a very nice shout-out for all of Mar Vista, and for yours truly and this blog I love to write as well. (I didn't know Stacie was going to mention me, but I'm thrilled and flattered that she did.) Check out her post here and give it some comment love if you have a moment.
Have a great weekend, Mar Vista!
---
---